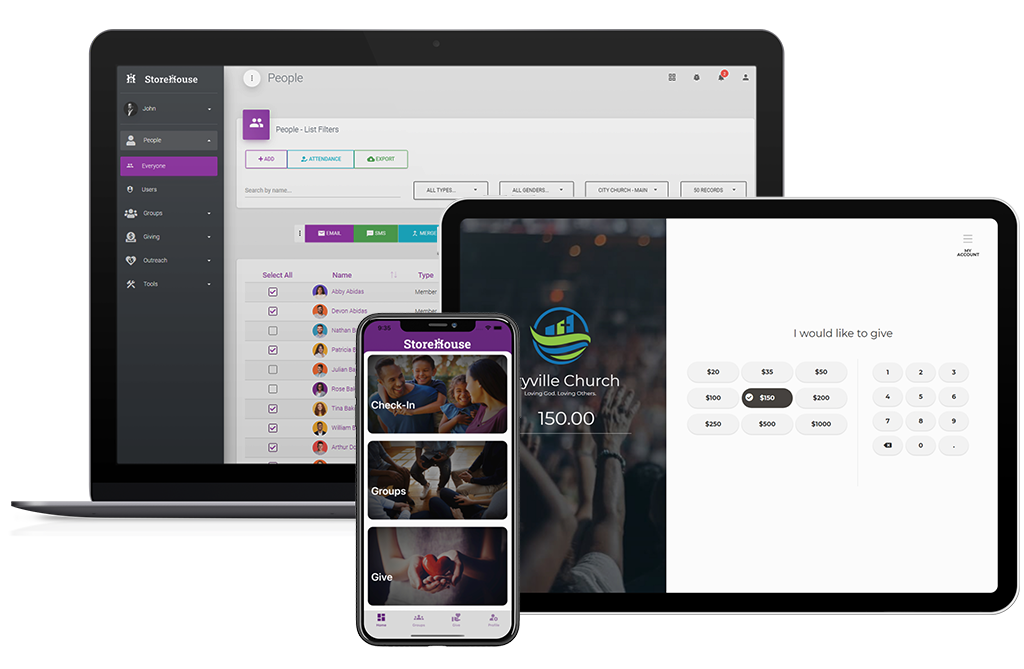 Reach.
Connect.
Grow.
Your all-in-one church management platform to help you build relationships and streamline giving so you can spend more time focusing on what's important - impacting your community.
Schedule a Demo!
The Trinity... of Features
Utilize cutting-edge technologies to help you REACH more people, CONNECT with your community, and GROW your church.
Ministry Driven
Developed with your church in mind. We want technology to help your ministry, not hinder it.
Focused Security
We've implemented layers of encryption, secured cloud storage, and more security features that keep your data safe and secure.
Blazing Speeds
At StoreHouse, we've got the need for speed! Our application architecture ensures you get the best user experience.
Key Features
Supercharge your REACH with advanced tools to CONNECT with your community and help your people GROW.
Autopilot
Automated messaging to stay connected with your church family.
Intelligent Chatbot
Let Joe the Bot help your online community connect to pastoral care.
Integrated Accounting
Blockchain protection & encryption helps you focus more on analysis & action.
1 on 1 Video Chat
Meet today's challenges with encrypted video chat for online counseling.
Social Media Manager
Stay on mission and connect with your community with our social media suite.
Biblical Coaching
With self-scheduling, go from issue to appointment in no time.
The Essentials
Tools to help you engage with your community and manage your data with ease.
Visual Community Influence
Volunteer Teams/Class Scheduler
Mobile App For Any Platform
Check-In

Easily check-in any family member.

Small Groups Shop

Find and join the right small group for you.

Communication

Push notifications to keep your members engaged.

Giving

A simple and guided mobile donation experience.

Group Management

Respond to volunteer, class, and small group invitations.
Fully Integrated Giving
Manage donors, transactions, and gain insights on giving trends.
Our secure payments platform is trusted by thousands of organizations.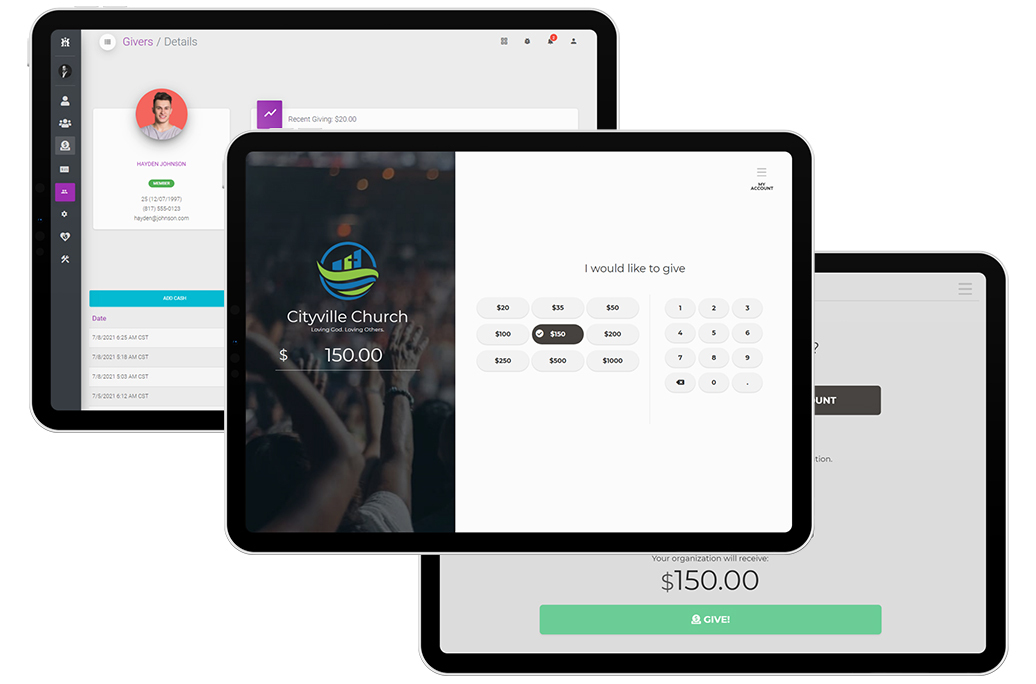 Visa/MC/Discover: Interchange + 0.75% + .20¢ / transaction

AMEX: Flat rate of 3.5% + .20¢ / transaction

ACH/eCheck: 0.50% + .25¢ / transaction

Add Text-to-Give for $10 / month
Download StoreHouse Today!!
* Available on iPhone and Android devices
At StoreHouse we believe in building relationally. We want to hear directly from you because we care about you. Ready to subscribe? Need more information? Want to schedule a demo? Please contact StoreHouse, today.